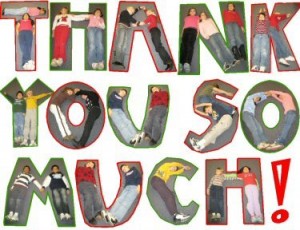 And it's not a normal give thanks day, but a day where you pick someone special who, in your life or in the last year, has made a difference.
This should be a person who you've never recognized or thanked before. It could be a person who simply made a comment that shifted your direction or viewpoint.
It could be a childhood friend that helped you through a tough time. It could be someone who didn't know they helped you or didn't plan on helping – the help just happened – and because if it you are better – and you want them to know it.
Be a fan of this page, share with friends and tell people that they've made a difference in your life, however big or small the difference, they did it.
Best,
John Kirker
P.S.  You can give thanks every day.  You can thank people for doing anything.  Just remember.  It doesn't cost anything to do it and it'll make both you and them feel great.
PPS.  Add comments on who you thanked and why.